tour jacket
where he would play the part of an eccentric circus ringmaster from a twisted fantasy world, perhaps like a glammed-up alien Willy Wonka for adults. That was the image I had in mind before I saw the cover.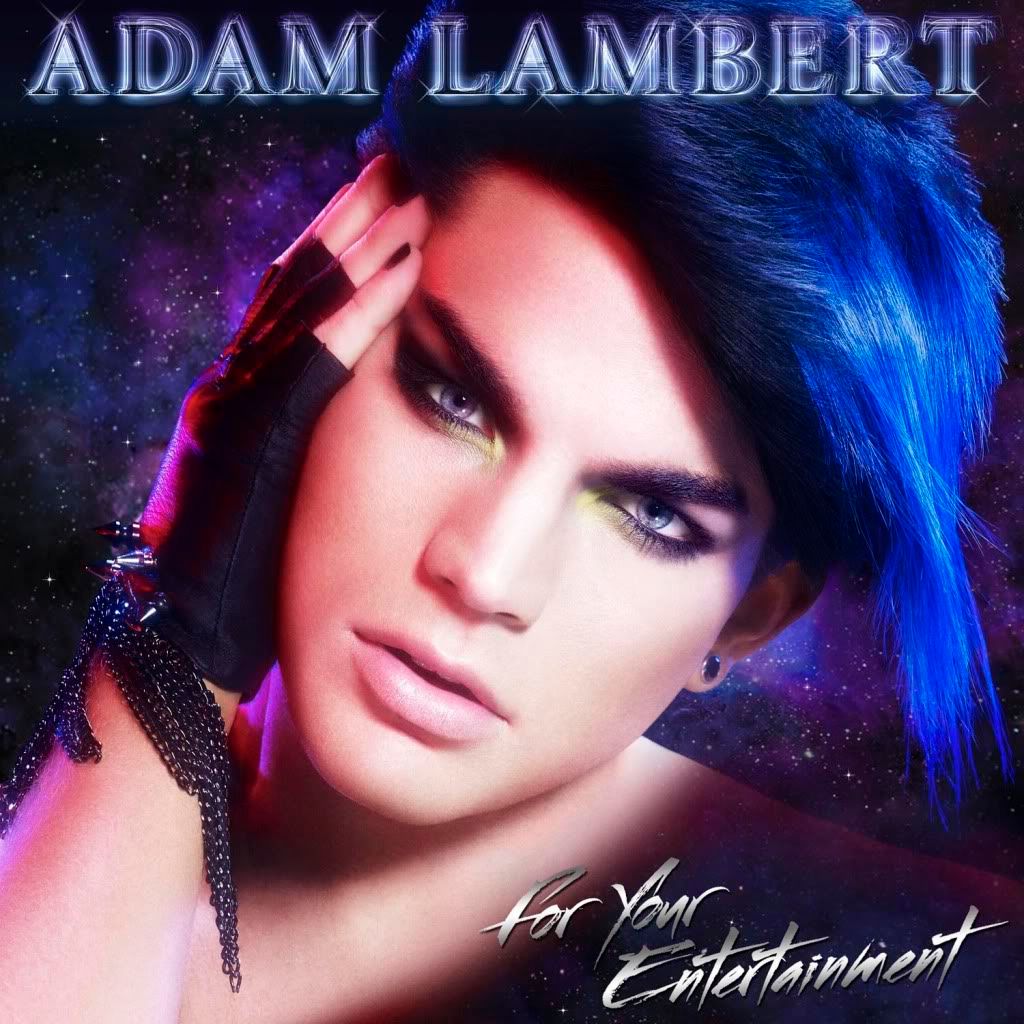 When I first saw it, I thought it was fan art done in an '80s fantasy style (unicorns, planets and stoner paraphernalia come to mind) because of the airbrushed plastic-smooth complexion, the glittery background nebulae and the simplicity of the composition. Someone had skillfully created the image from scratch for a remarkable likeness which was more sophisticated than all the fan creations I'd previously seen. I then realised it was a photo but couldn't recall which one was used as a base before realising it was new and it hit me that this was the album cover. Yes, I'm that slow!
Unsurprisingly, I love the electric blue hair and the colour scheme, which fits in perfectly with this blog. Adam went for a gender-bending androgynous look, a prettier David Bowie, a softer Annie Lennox. When he's been dressed up before, his look has never been as feminine as this. Even when he's gone for the pretty, there's still plenty of masculinity. For example, in the photo used in one of my attempts at artwork some time ago (see the similarities?), he's all glammed up but still retains a patch of glittery beard. I'm not a fan of the pose which I find a little too passive, and coupled with the soft focus is like the result of one of those 'free' makeover adverts that charge ridiculous amounts for the photos. I would have liked to have seen him with a more animated expression in a composition that pushes the envelope more. I don't like the over-used airbrushing but I understand its contribution to the other-worldly ethereal android look, like he's a CGI Final Fantasy character. Although radiant, he just manages to escape looking like a cosmetics advert thanks to the cold colours. His shoulder just looks strange, very 2-D. I do love the fierce stare enhanced by the dramatic eye make-up, and where he pulls his eye slightly taut changes the shape of his face making him look even more feminine. Those and the dreamy alien glow remind me of Princess Aura (below) from Flash Gordon. There's no denying that it's a bold image and Adam looks beautifully bewitching. But how well does it work as his first album cover?
Adam described the album sound as being "as if a '70s time-capsule blasted off into space and you're watching it through a holographic filter." The artwork does indeed embody those words with a very kitsch glam retro feel. It complements the rather conventional title of the album by paying homage to some of Adam's influences which some
bloggers
have pointed out. The fundamental issue I have with it as a cover is, although it's beautiful, it looks too dated and could easily pass as an old vinyl cover from the early '80s. Albeit not as important in the digital age, it's still supposed to help establish the image of an artist but there's nothing new and the typography incorporated looks like it's from the cheesy side of that era. It makes me think that the album is all retro-glam, which may perhaps be correct, we don't know yet, but I'm disappointed by the distinct absence of modern elements being represented. It lacks fun, doesn't tell me it's fresh, nor does it tell me it's something completely new and monumentally different, which is what I've been led to believe. It's soft rather than hard and edgy and it conflicts with my personal expectations for the album. But that's part of the problem - Adam is so versatile and spans such varied genres that we all have different expectations and it's hard to find an all-encompassing cohesive image to please us all.
The artwork, like the title, is only a component of the album. In the way that the cover's references make up for the title's lack of them, only when I hear the album will I really be able to judge how effective it is. Maybe Adam warps retro through his holographic filter, making us see something modern and futuristic. We'll just have to wait and see. Judging by your comments, it's very polarising and that in itself has generated plenty of buzz. It still represents Adam's view that if you're pleasing everyone, you're playing it too safe. I'm happy that the album cover is not a safe choice. It is distinctive and challenges people's discomfort and acceptance of feminine beauty in men.